tinyfeats
Regular price
$ 99.00 USD
Regular price
Sale price
$ 99.00 USD
Unit price
per
Sale
Sold out
Low stock
The tinyFEATS Busy Book for Babies, a truly thoughtful and unique baby gift.

These soft felt sensory books are meticulously handcrafted, and designed to get babies neurons firing to fuel their cognitive development through interactive and engaging Montessori style play-to-learn activities. We even made sure there were no loose parts, ensuring safety without compromising fun.
Our top quality felt is sustainably made from recycled bottles and is OKEO-TEX™️ Standard 100 certified to contain no chemicals harmful to humans. We're committed to keeping our children and our planet, safe, healthy and thriving! 🌱

It's a one-of-a-kind first birthday or baby shower gift that can grow with the child, offering endless opportunities for creative play and learning as the child grows. Swap out the pages for new more challenging activities whenever baby is ready to master a new skill.

This is one of only a few toys that children can enjoy throughout all of the early years, and sure to become a cherished family keepsake and a stand-out First Birthday or Baby Shower Gift.

There's so much to love about these Busy Books:
✅ SENSORY TOY: filled with a whole bunch of sensory experiences designed to spark baby's neuron's and nurture cognitive development.
✅ PERSONALIZED BABY GIFT: we personalize the books' cover with little alphabet beads that spell out the childs name (optional).
✅ KEEPSAKE: we've included a bookplate on the inner cover so you can inscribe a special message for the child, and be remembered forever for your thoughtful gift.
✅ GROW-WITH-ME: add in new more challenging activity pages as baby grows, unlike most baby gifts this busy book can last throughout the early years!
✅ PLAY EVERYWHERE: grab and go fun for kids tucked neatly into an easy to carry book with handles. Perfect to bring on vacation, take to church, play in the car or anywhere kids need to wait.
✅ BUILT TO LAST: made from thick, quality polyester felt, these books are virtually indestructible, and certainly durable enough to stand up to whatever your child throws on, at or into it!

Order now and you'll get all this: 👇
⭐️ Personalized Quiet Book (aka Busy Book) 3 different cover colors to choose from, and we personalize the book with the child's name on the cover in little alphabet beads.

⭐️ Our most popular Baby Quiet Book Activity Pages are included:
→ Sensory Shapes & Textures: a sensory delight for babies, there are so many fun exciting touchy feely elements to this page, its one of the most popular baby pages
→ Peek a Boo Mirror: who's that cutie? Babies love looking at their reflection and its an adorable way to promote self awareness
→ Tilt and Smash: explore how different movements affect the little balls! Tilt, smash or blow on the play surface to make the little balls dance, and reveal secret treasures below.
→ Mermaid Sequins: a satisfying sensory experience for babies and adults alike, plus it illustrates cause and effect! Babies have the best reactions to this page, make sure to get your camera ready to capture the unforgettable moment

👉 Check out this video that shows how to add new activity pages to a tinyFEATS Quiet book / Busy book.

👉 Please note that great care has been taken to ensure your child's safety, however please regularly inspect the toy to ensure all pieces are still securely fastened. Adult supervision is required.. and encouraged, this is fun stuff!

🧵 Materials: All felt is 100% Made from Recycled Pop bottles and OKEO-TEX™️ Standard 100 certified. We choose Polyester felt for its stain resistance durability and sustainability.
🧼 Care & Cleaning: Hand Wash. Tumble Dry or Lay flat to dry. Iron with low heat and pressing cloth.

Order today and receive your book in 10 days or less! (For most USA and Canadian shipping destinations, some exclusions apply)
Share
View full details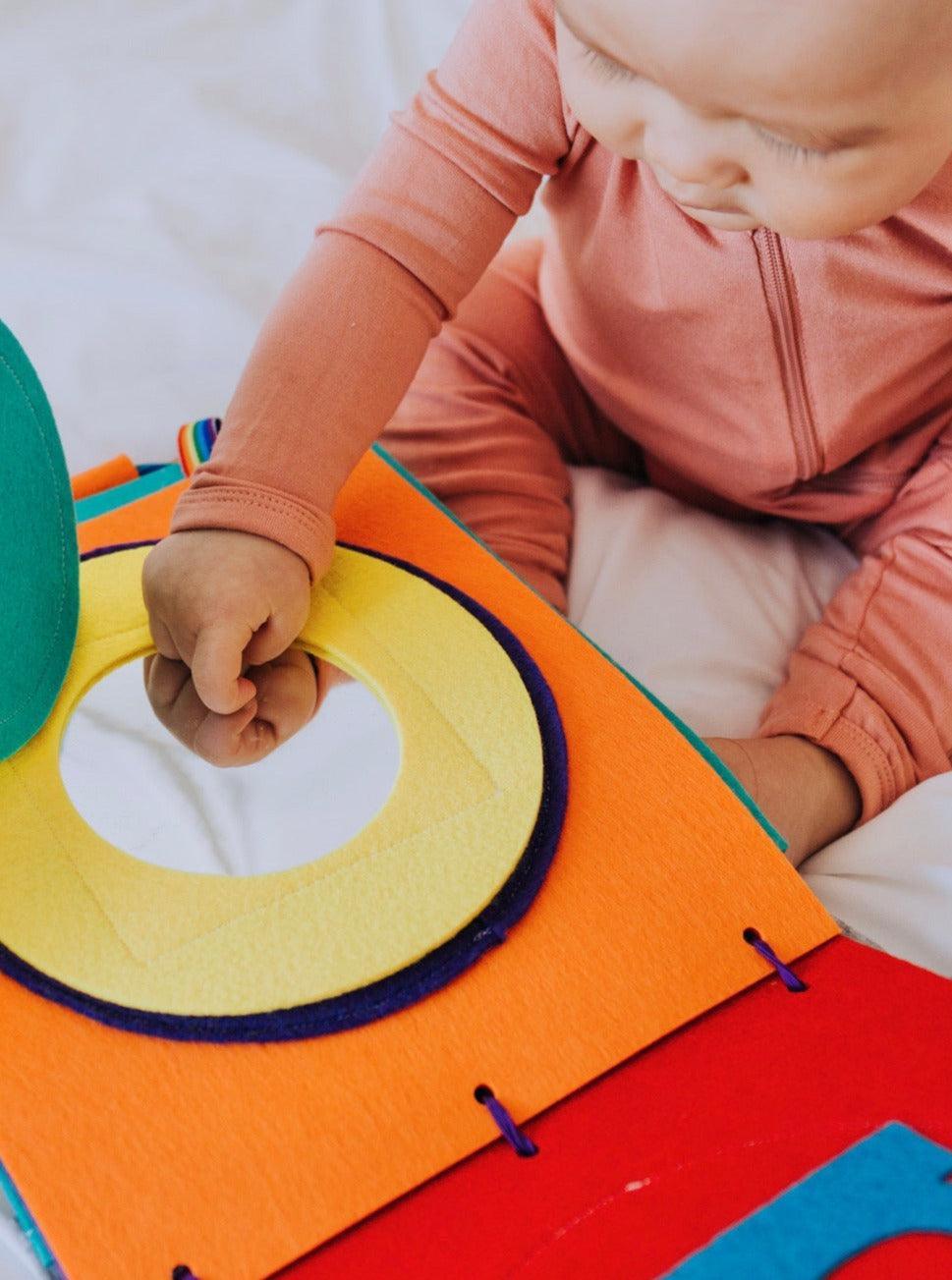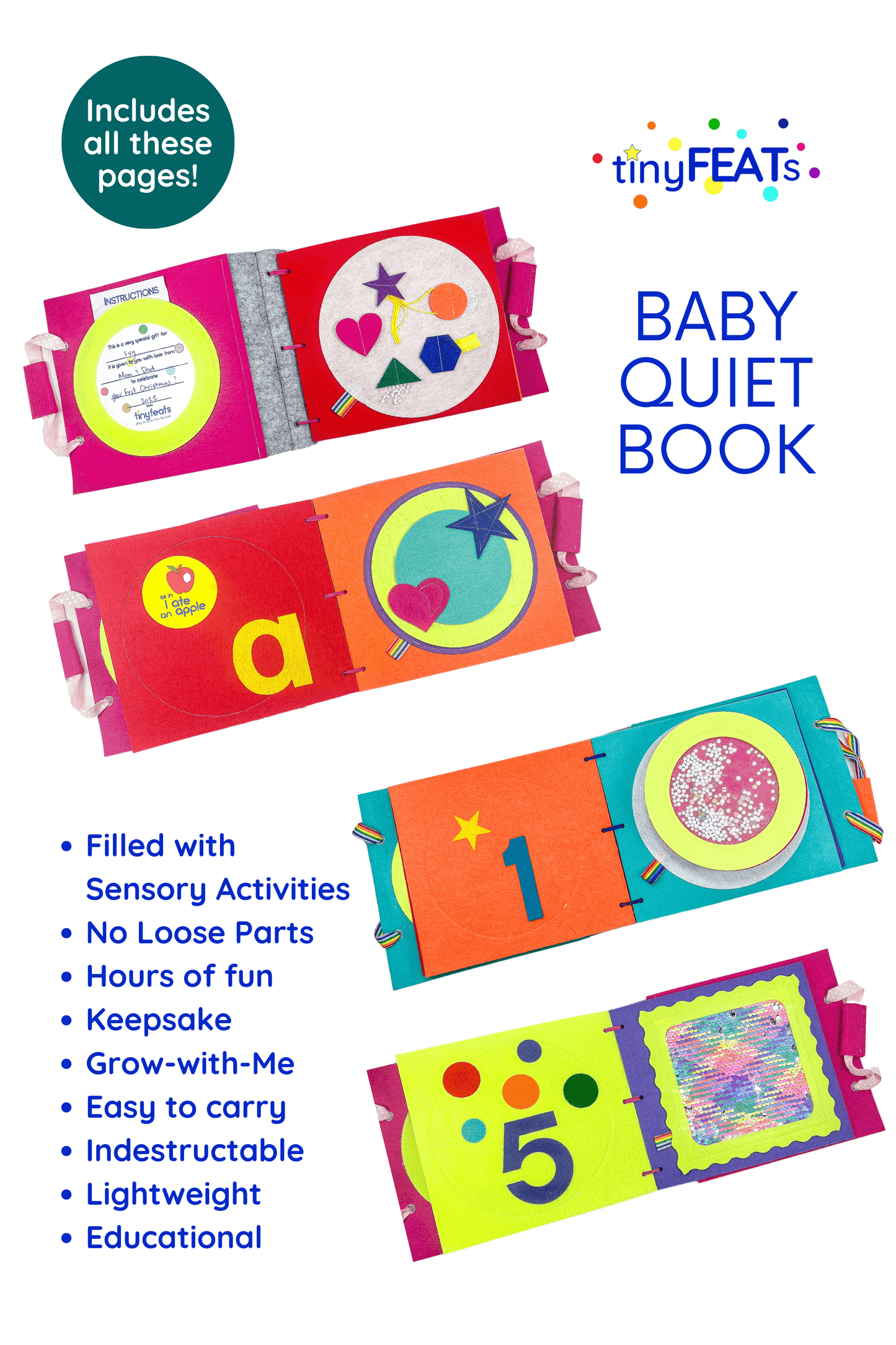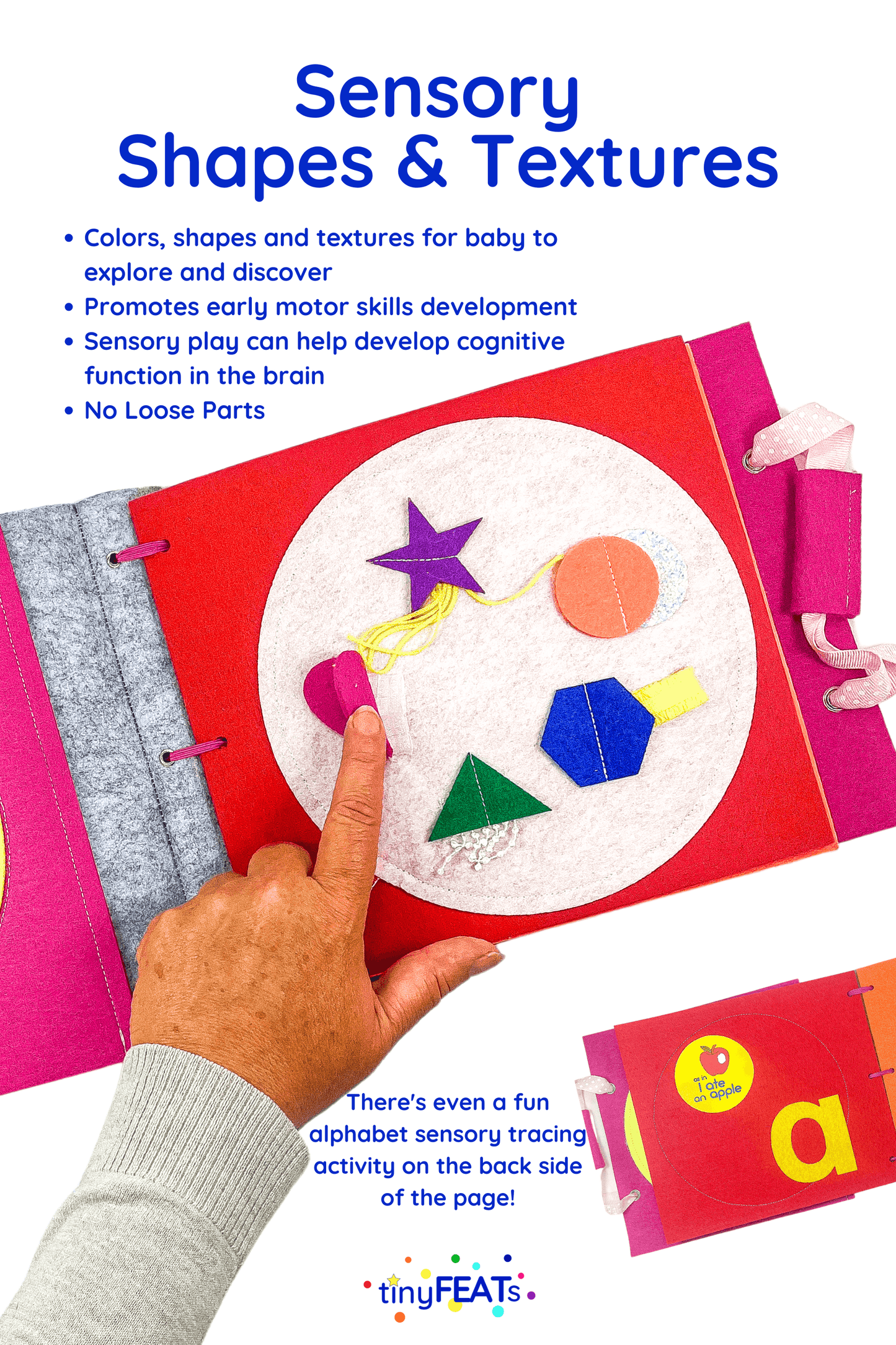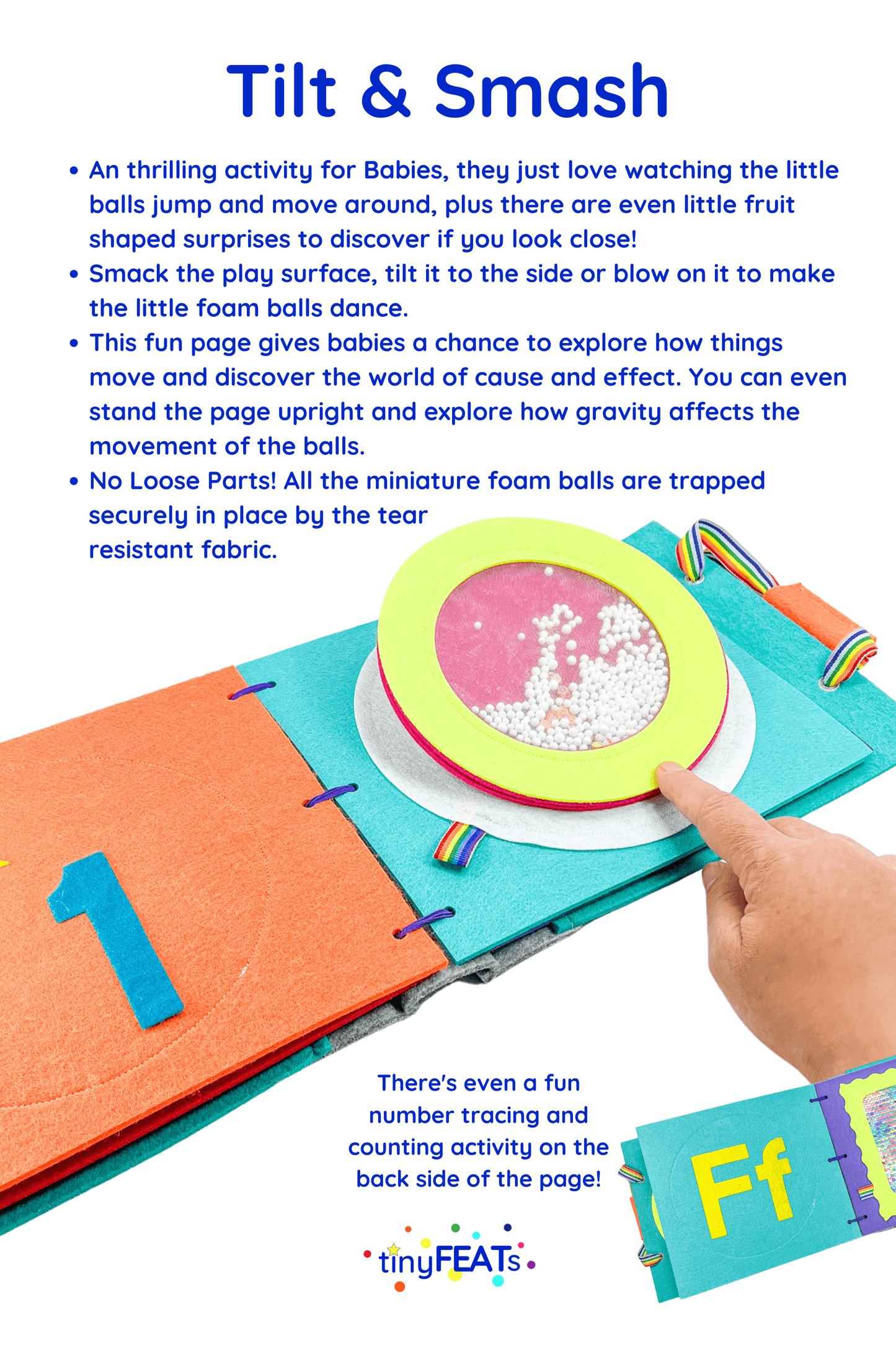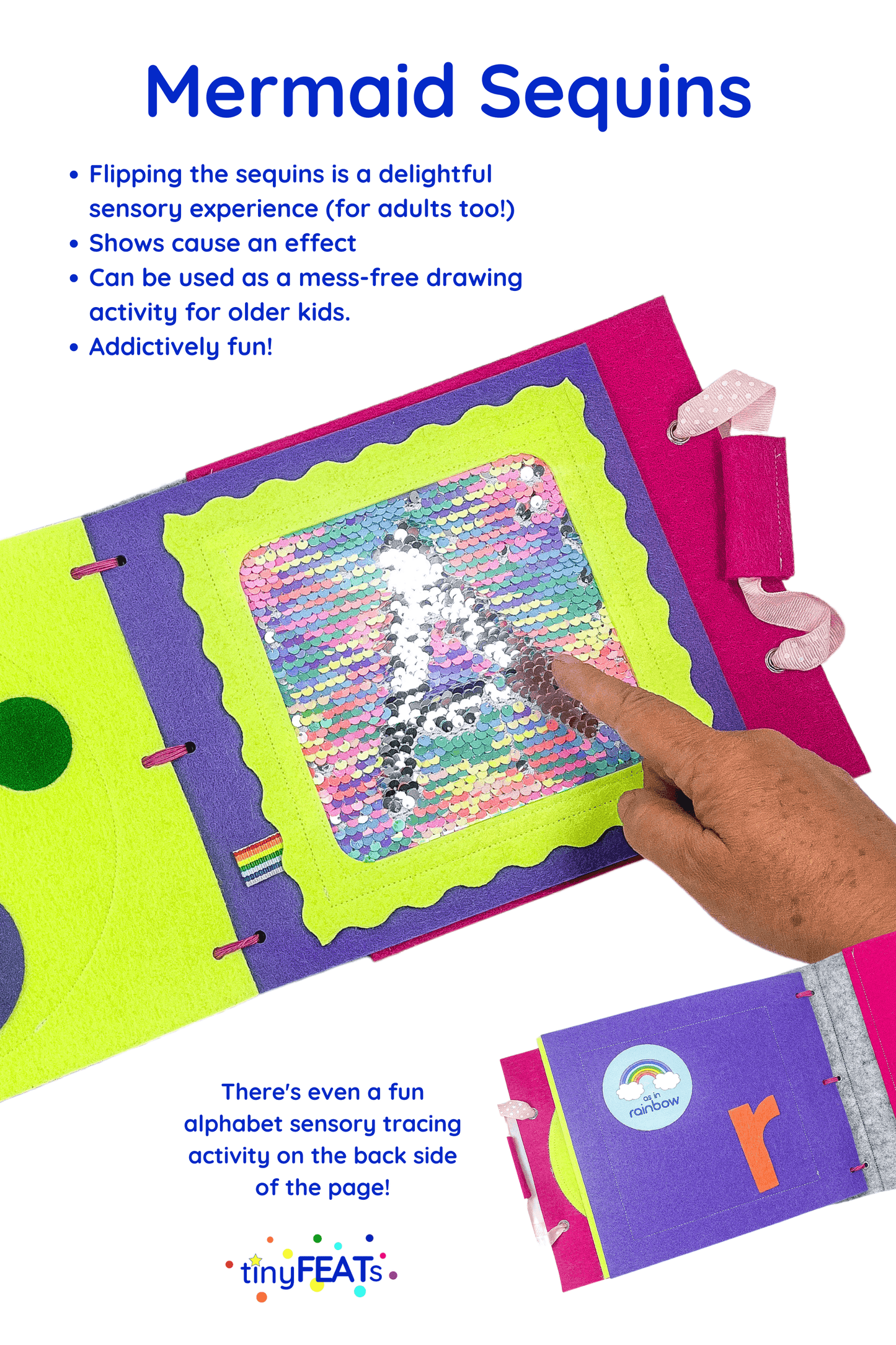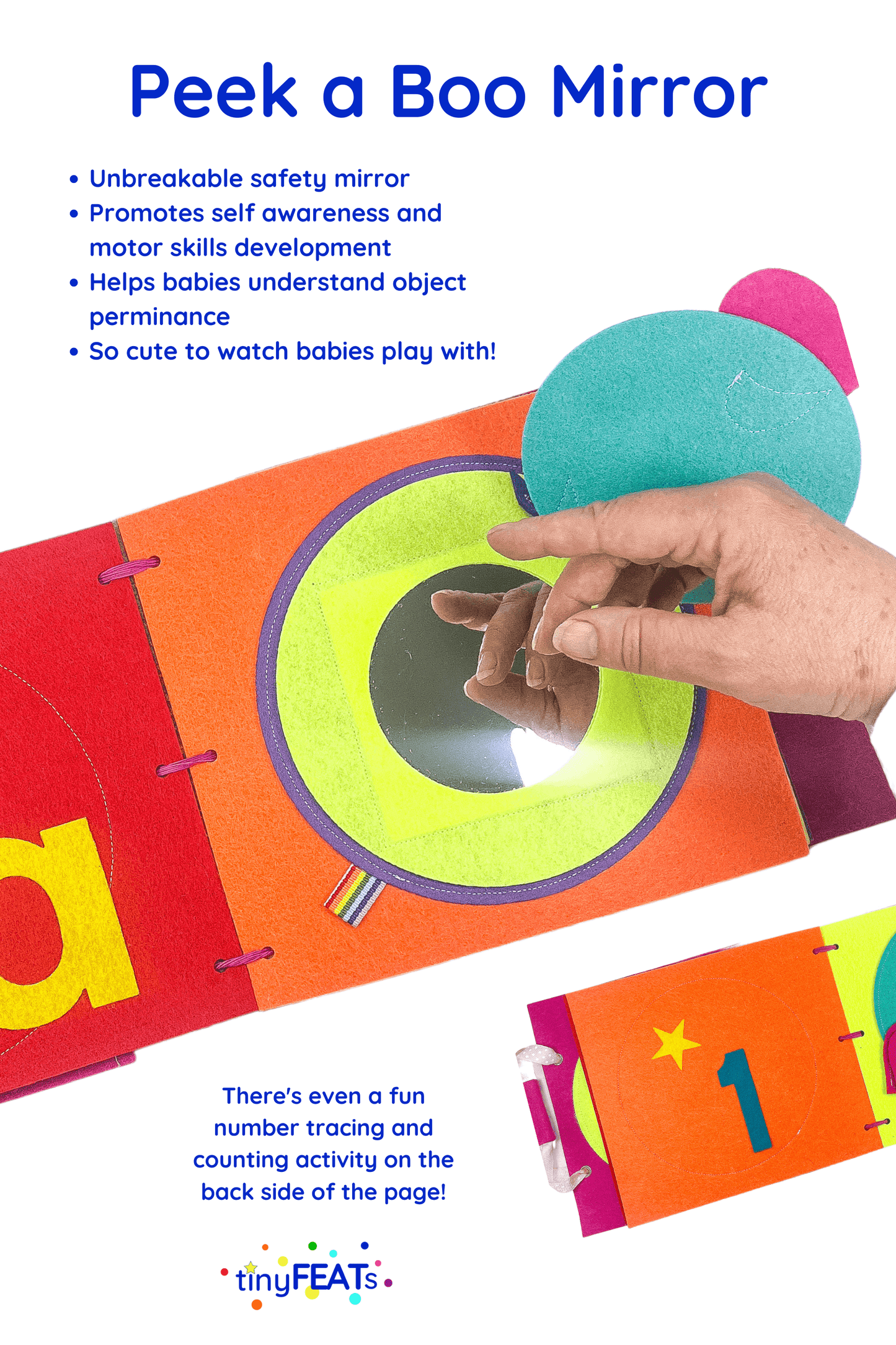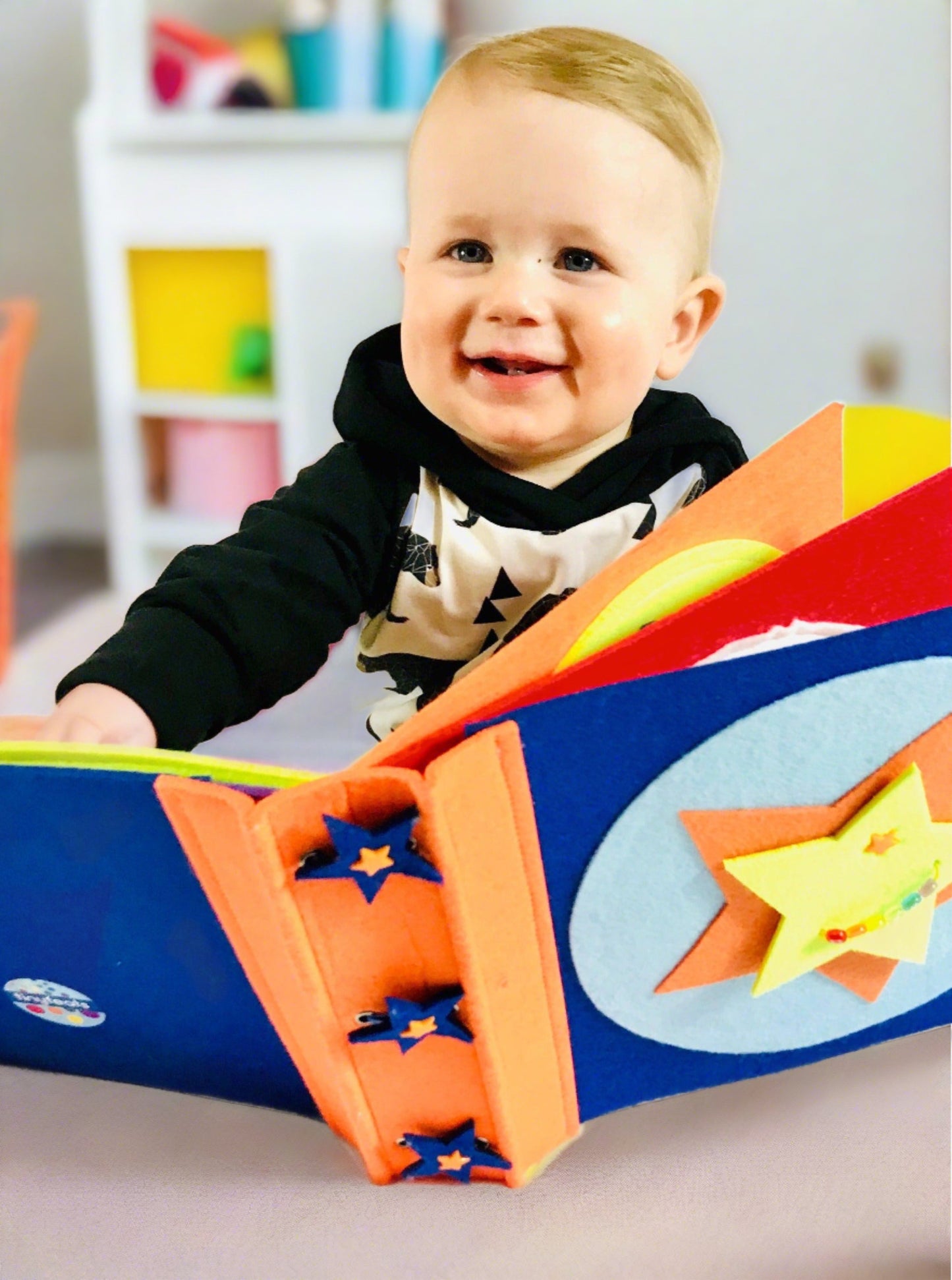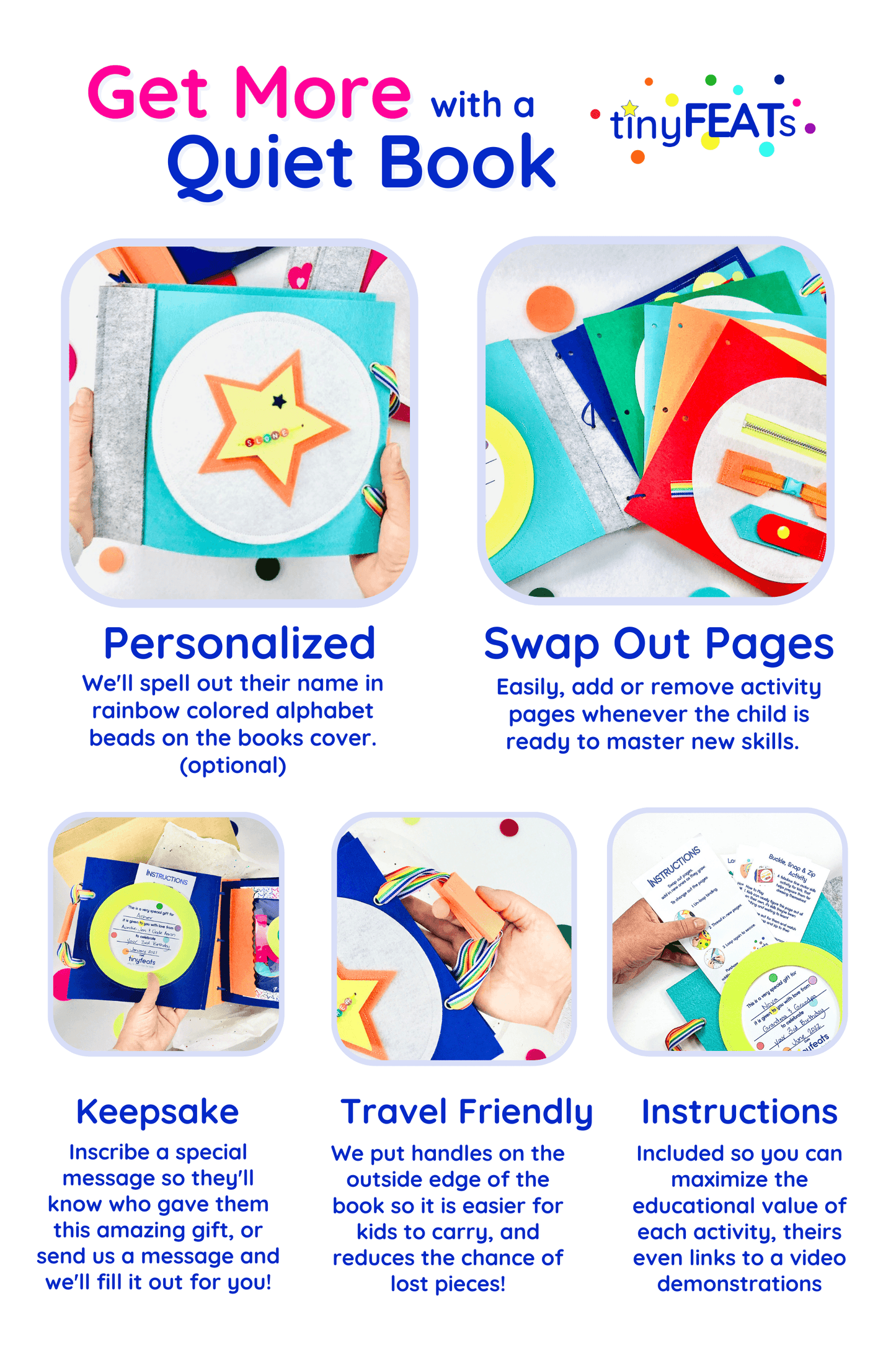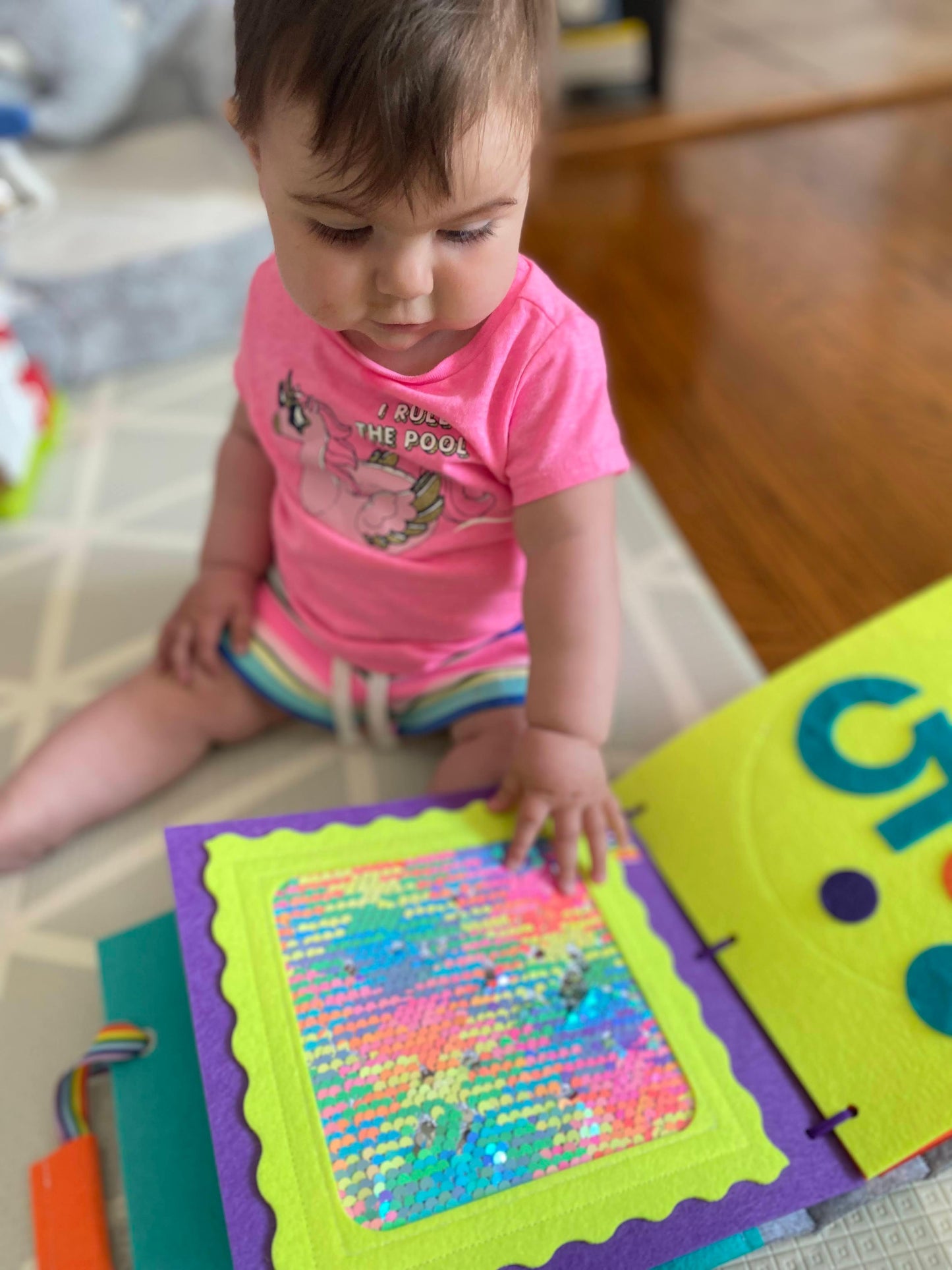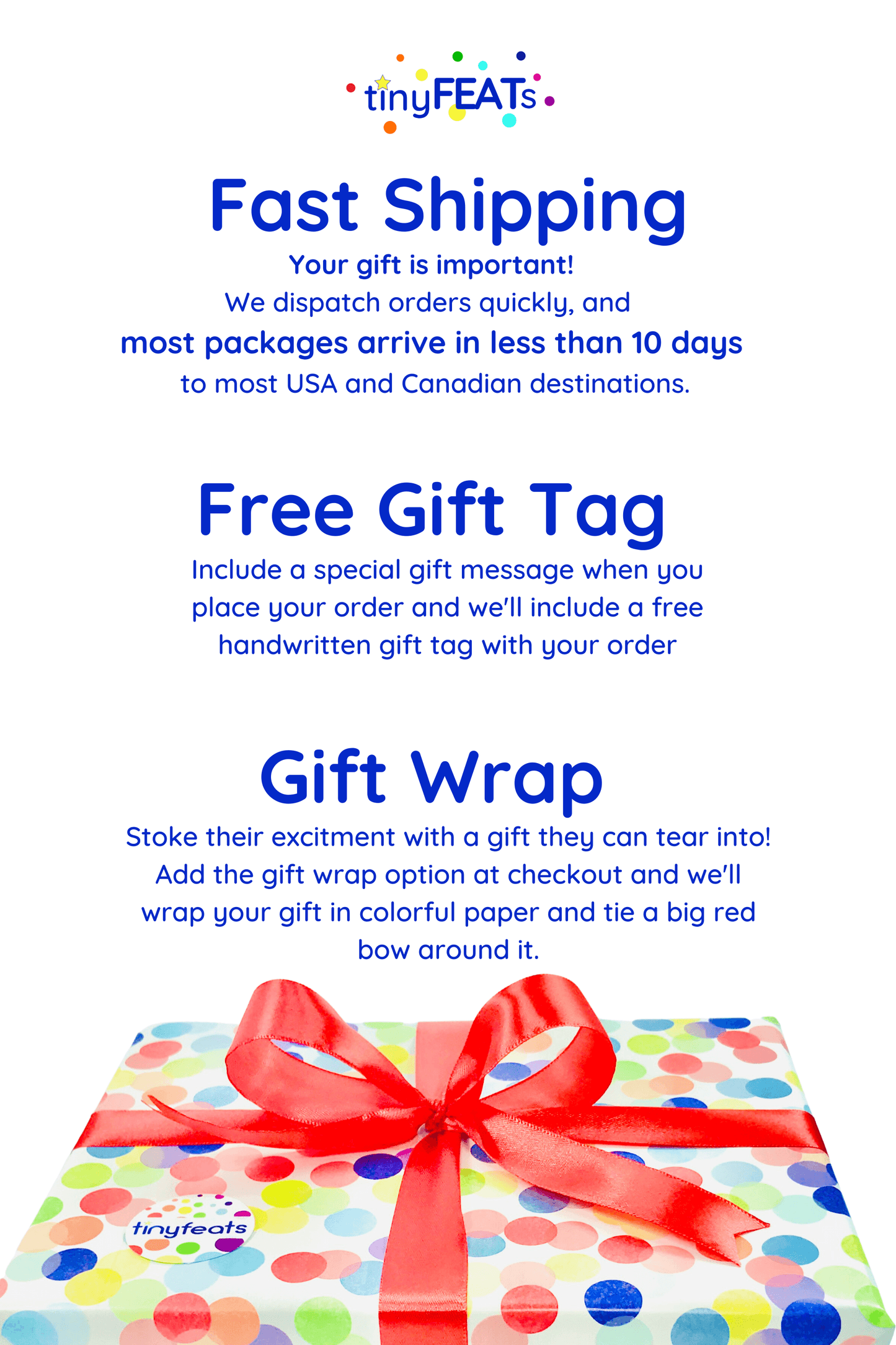 Super fast shipping. This was my 2nd busy...
Super fast shipping. This was my 2nd busy book, loved my daughter's so much I got one for my best friend's son 1st.
The seller was very helpful in selecting t...
The seller was very helpful in selecting the item appropriate for the age of my grandchild. She was knowledgeable, and the product exceeded my expectations.
5 stars review from Hannah
5 stars review from Hannah
Beautifully made! My son is going to love...
Beautifully made! My son is going to love it. Thanks!
Excellent product and delivery time! This...
Excellent product and delivery time! This seller went over and beyond my expectations!