tinyfeats
Regular price
$ 99.00 USD
Regular price
Sale price
$ 99.00 USD
Unit price
per
Sale
Sold out
Low stock
🤓 Filled with brain-building activities that kids obsess over! These cute little busy books are virtually indestructible, take anywhere, educational activities for kids in a convenient grab-and- go felt quiet book.
Everything you need to occupy a busy preschooler or kindergarten aged kid at home, or on the go! It's quite possibly the perfect childrens toy and a unique personalized gift for boys and girls age 3, 4, 5, 6 and 7 years old.

There's so much to love about these Quiet Books (aka Busy Books):
✅ BUILT TO LAST: kids can be tough on toys (and furniture) but these books are made from thick, quality, washable polyester felt, thats virtually indestructible and certainly durable enough to stand up to whatever your kiddos throw on it, at it or into it! Plus, its soft enough to prevent damage to floors, furniture or a siblings head 🤣
✅ DEVELOPMENTAL TOY: its more than just a really fun toy, these activities are designed to help kids develop skills they'll use their entire life like fine motor skills, problem solving, math and practical life skills like sorting games!
✅ UNIQUE GIFT for KIDS: kids amass so many toys that get forgotten quickly, this is a really unique kids gift that they can actually use to build life skills.
✅ KEEPSAKE: we've included a bookplate on the inner cover so you can inscribe a special message for the child, and be remembered forever for your thoughtful gift.
✅ GROW-WITH-ME: add in new more challenging activity pages whenever they are ready to master a new skill, unlike most childrens toys this busy book can last throughout all of the early years!
✅ PLAY EVERYWHERE: this clever book is grab and go fun for kids tucked neatly into an easy to carry book with handles. Perfect to bring on vacation, take to church, play in the car or anywhere kids need to wait.

Order now and you'll get all this: 👇
⭐️ Personalized Quiet Book (aka Busy Book) 3 different cover colors to choose from, and we personalize the book with the child's name on the cover in little alphabet beads. (Optional)

⭐️ Our most popular Big Kids Quiet Book Activity Pages are included in this Busy Book:
→ MEMORY MATCH GAME:A fun way to get kids thinking and building cognitive skills. Plus the rows unsnap so you can shuffle them for a new game everytime!
→ WHITE BOARD: A dry erase activity with different inserts so kids can practice writing the alphabet, spelling words, play tic tac toe or draw!
→ TANGRAM PUZZLE: An open-ended puzzle and cognitive challenge for kids, using the puzzle pieces create the things you see in the world around you, a cat, numbers, letters, buildings or shapes! We've included a few samples to get kids started but this is a wonderful activity to nurture their creativity too.
→ RECYCLING GAME: Help kids navigate the confusing world of dealing with waste. Kids must decide where to sort the items garbage, recycling or compost.. its a challenge that gets kids thinking about bigger questions.. like why is there so much garbage!

👉 Check out this video that shows how to add pages to a tinyFEATS Quiet book / Busy book.

📏Measurements:
We tested and tested till we found the perfect size for a kids quiet book, its small enough to fit in a child's lap and big enough to create a good sized play surface for the activities.
Activity Pages are 9" x 8 1/4"
Books are approximately 10" x 8 1/2" x 2" - 5" tall
(depending on how many pages you have included at any time)

👉 Please note that great care has been taken to ensure your child's safety, however please regularly inspect the toy to ensure all pieces are still securely fastened. Adult supervision is required.. and encouraged, this is fun stuff!

🧵 Materials: All felt is 100% Polyester for stain resistance and durability.
🧼 Care & Cleaning: Machine Wash or Hand Wash. Tumble Dry or Lay flat to dry. Iron with low heat and pressing cloth.

✈️ FAST SHIPPING: Order today and you'll have your book in 10 days or less! (For most USA and Canadian shipping destinations, some exclusions apply)
Share
View full details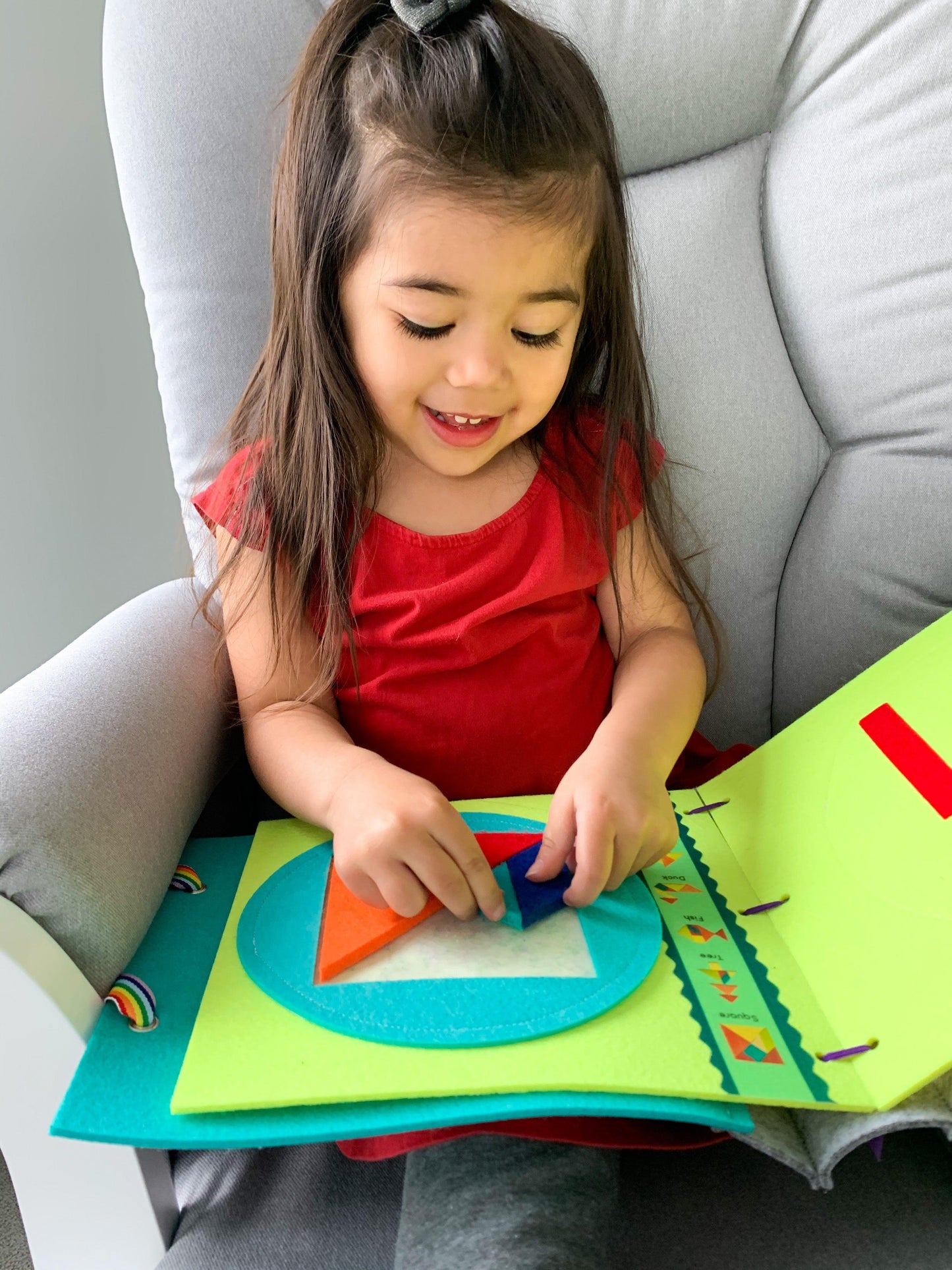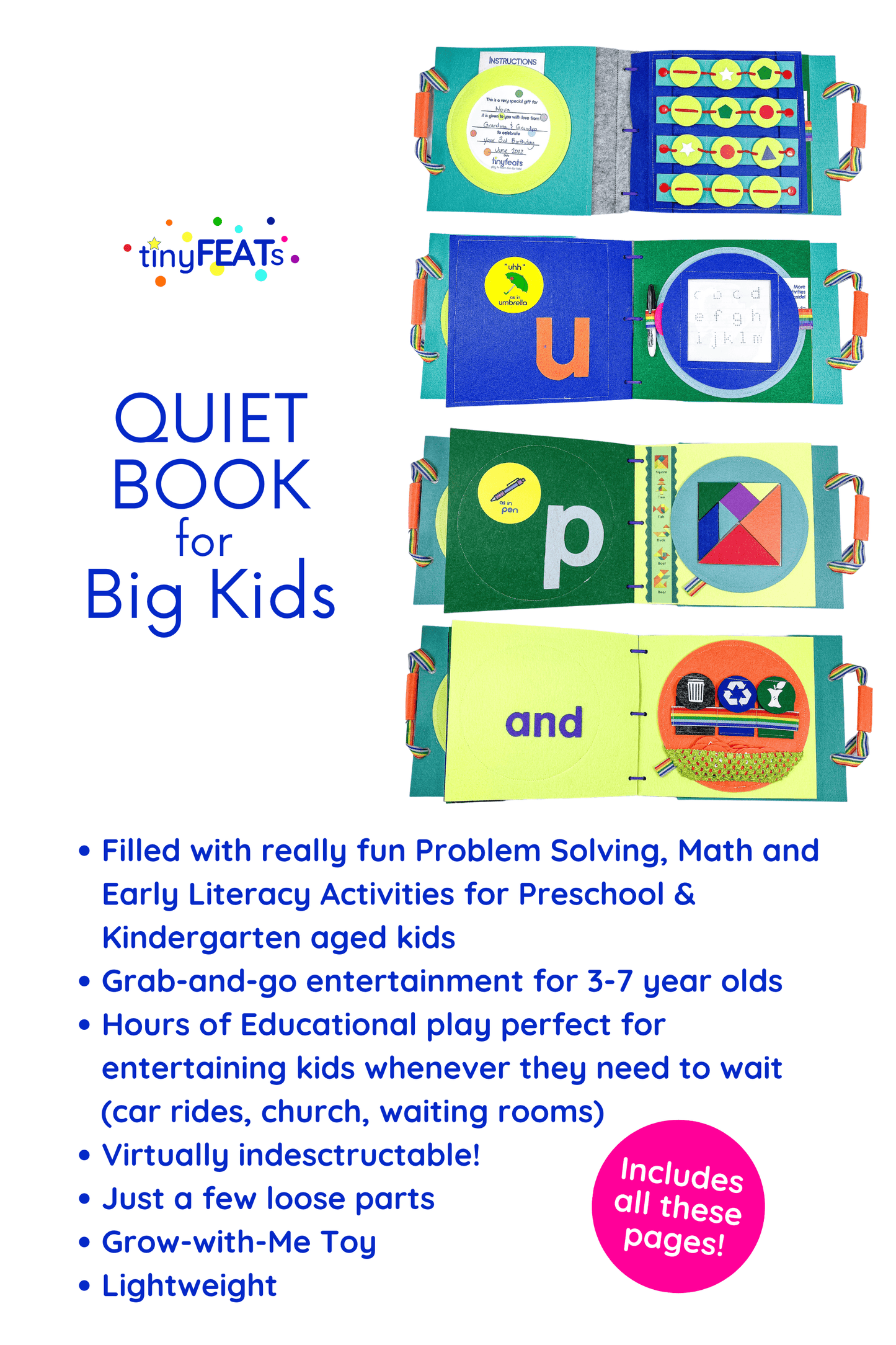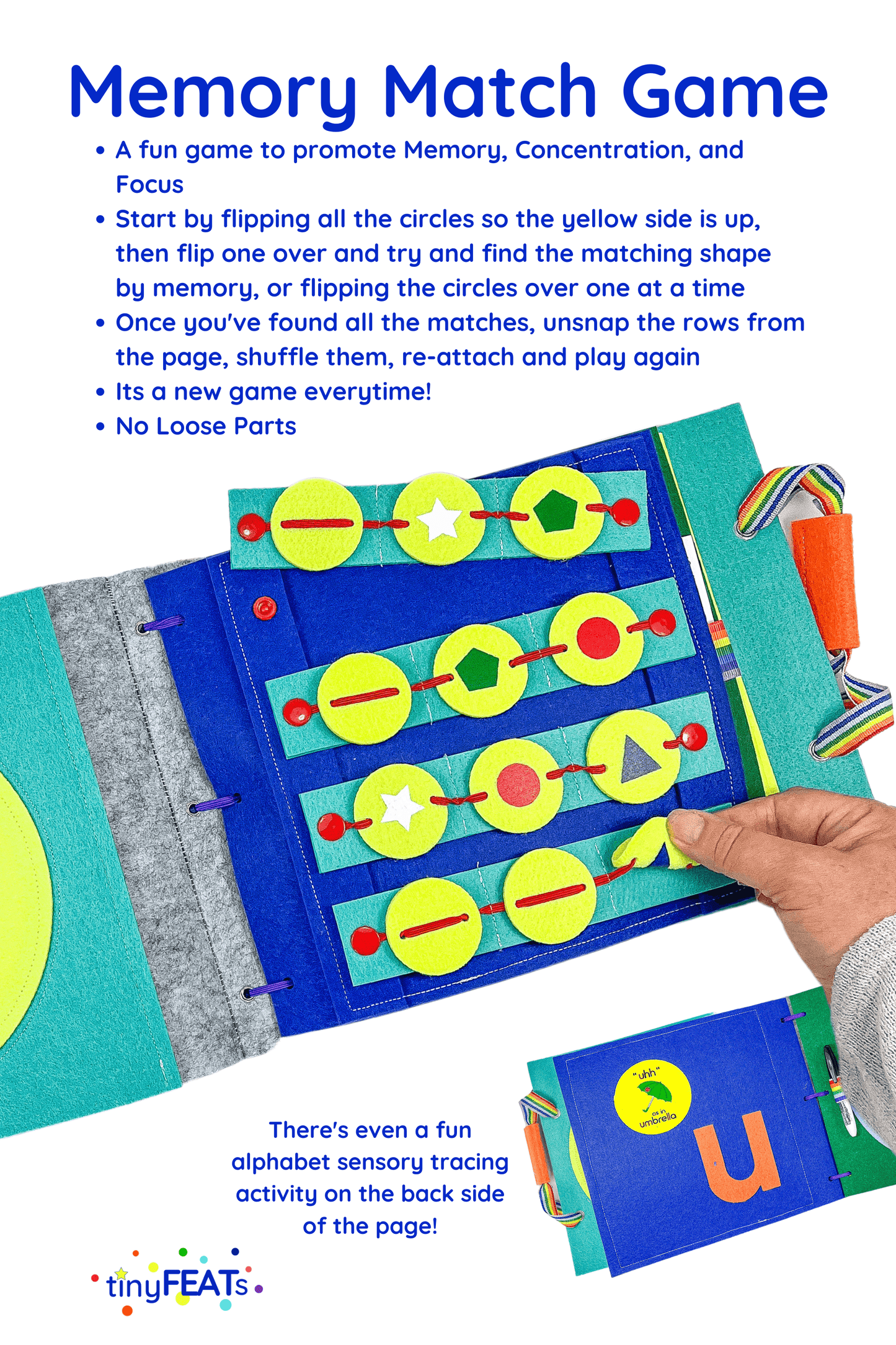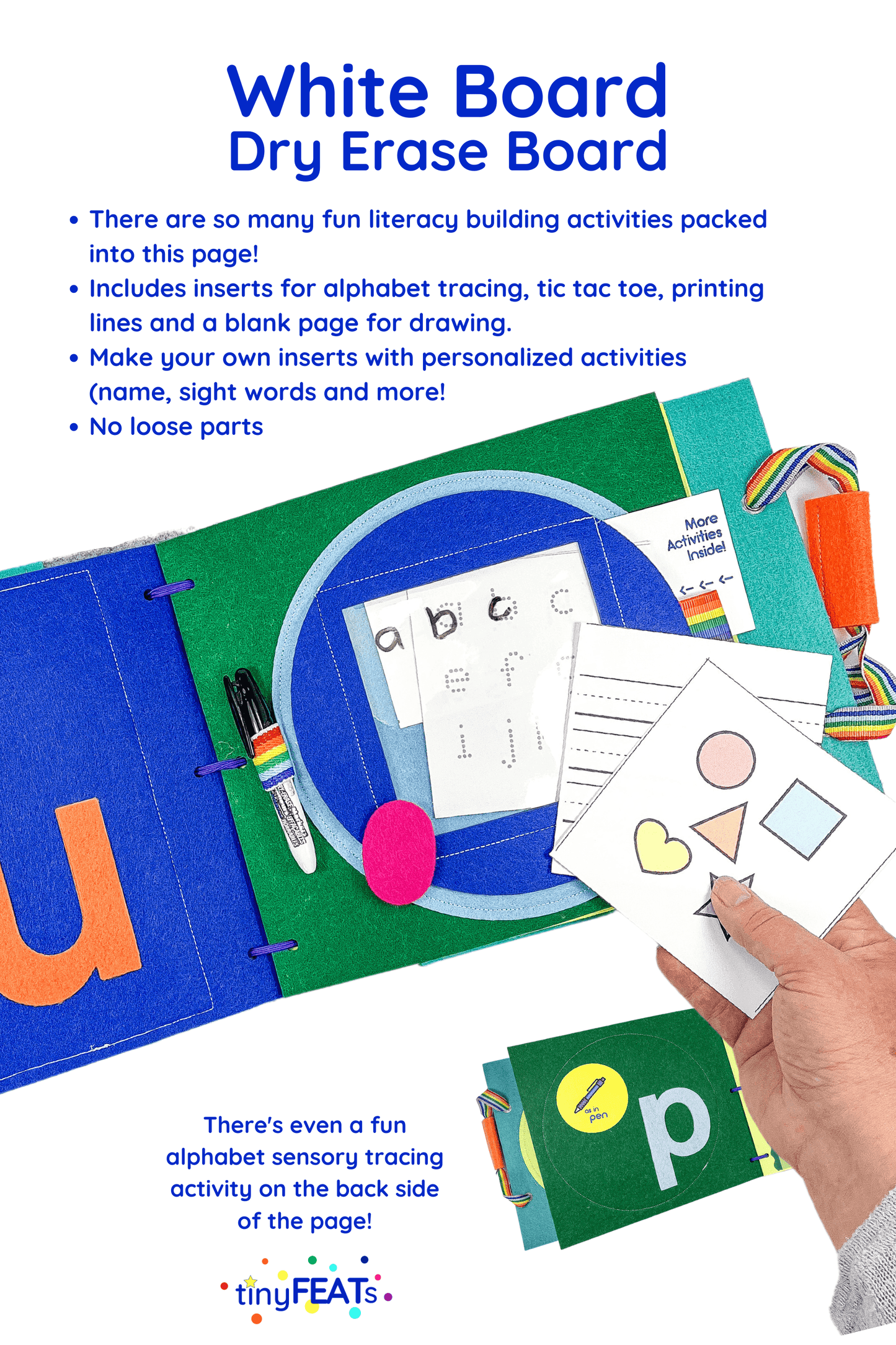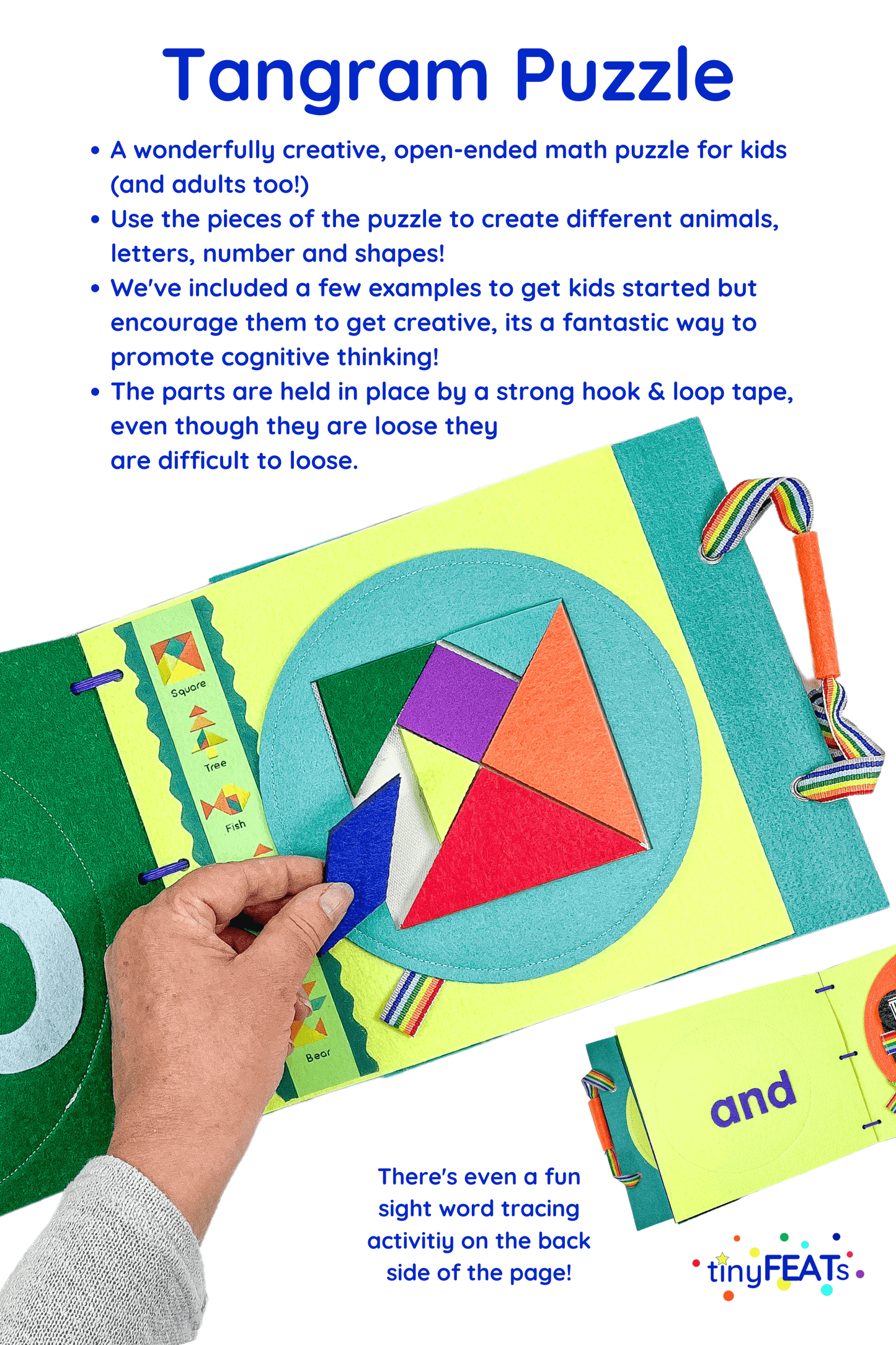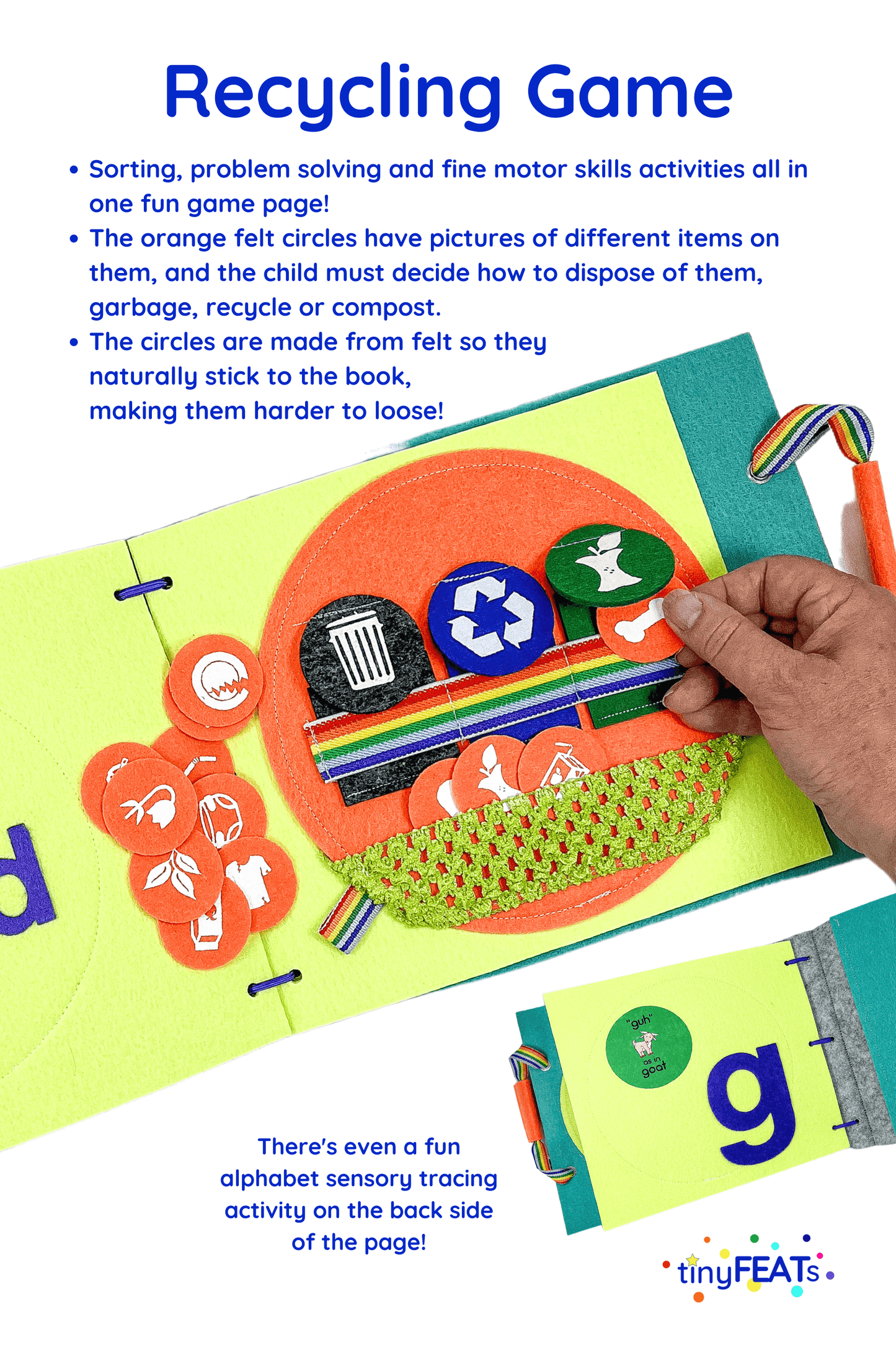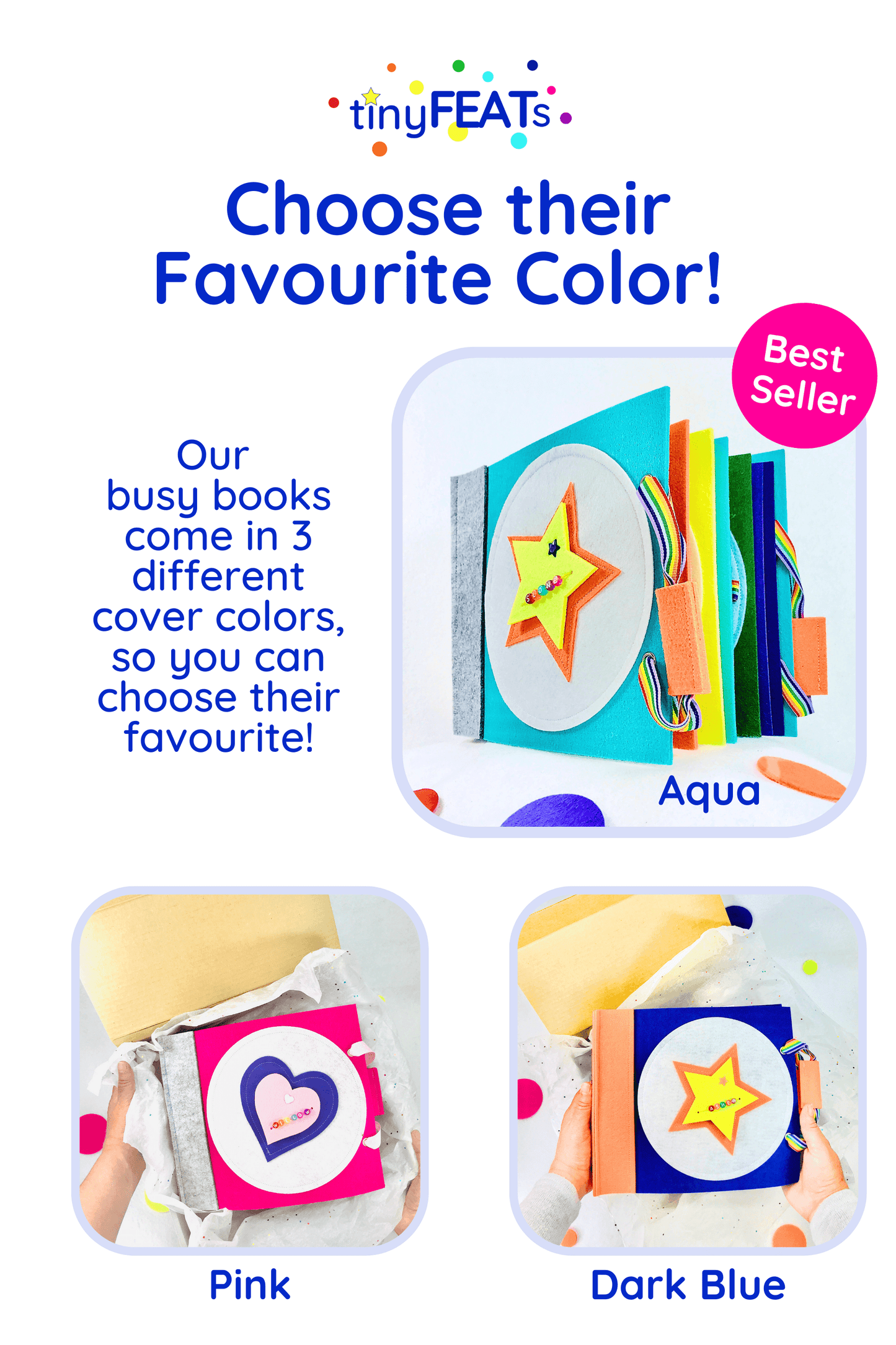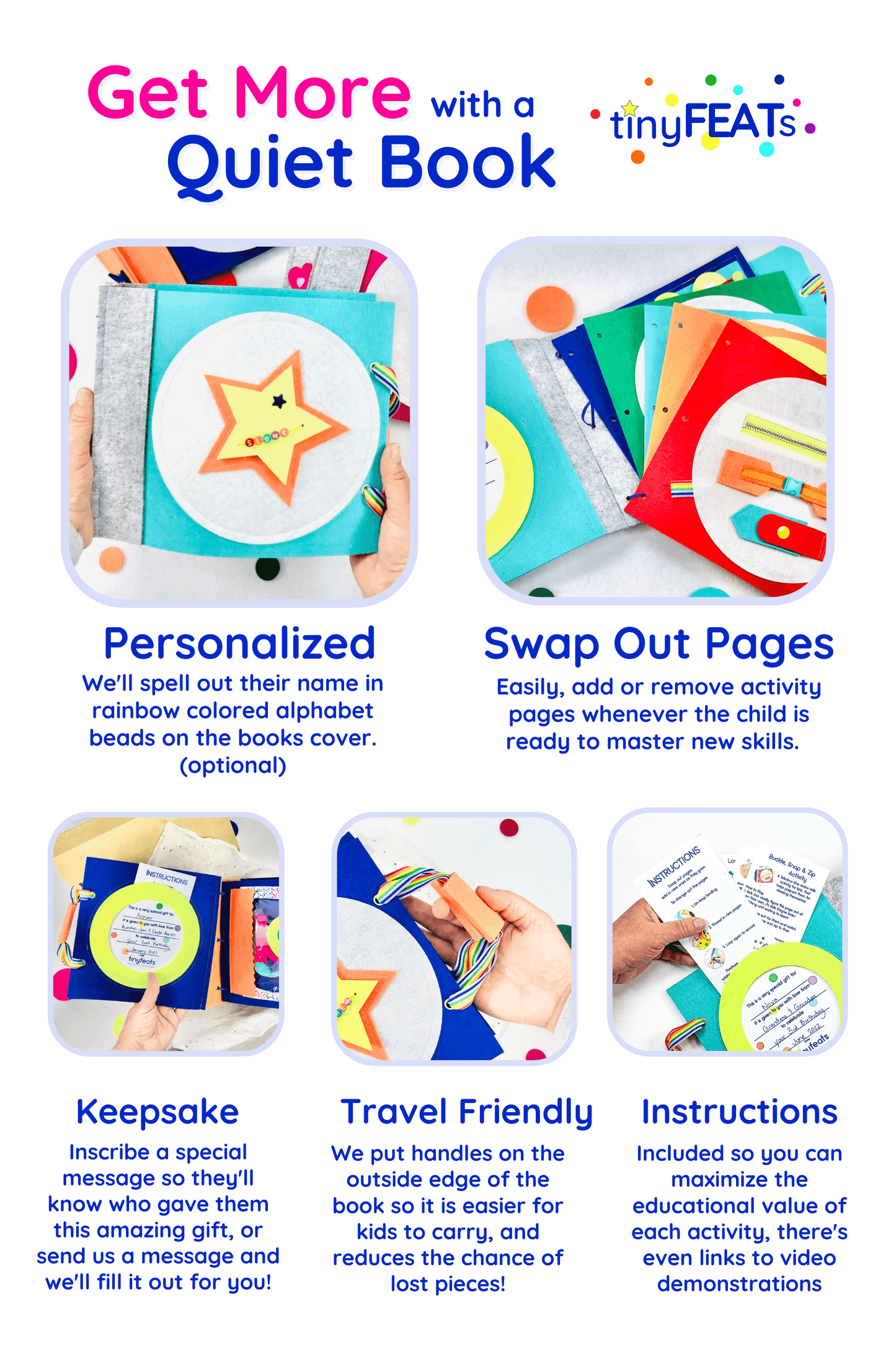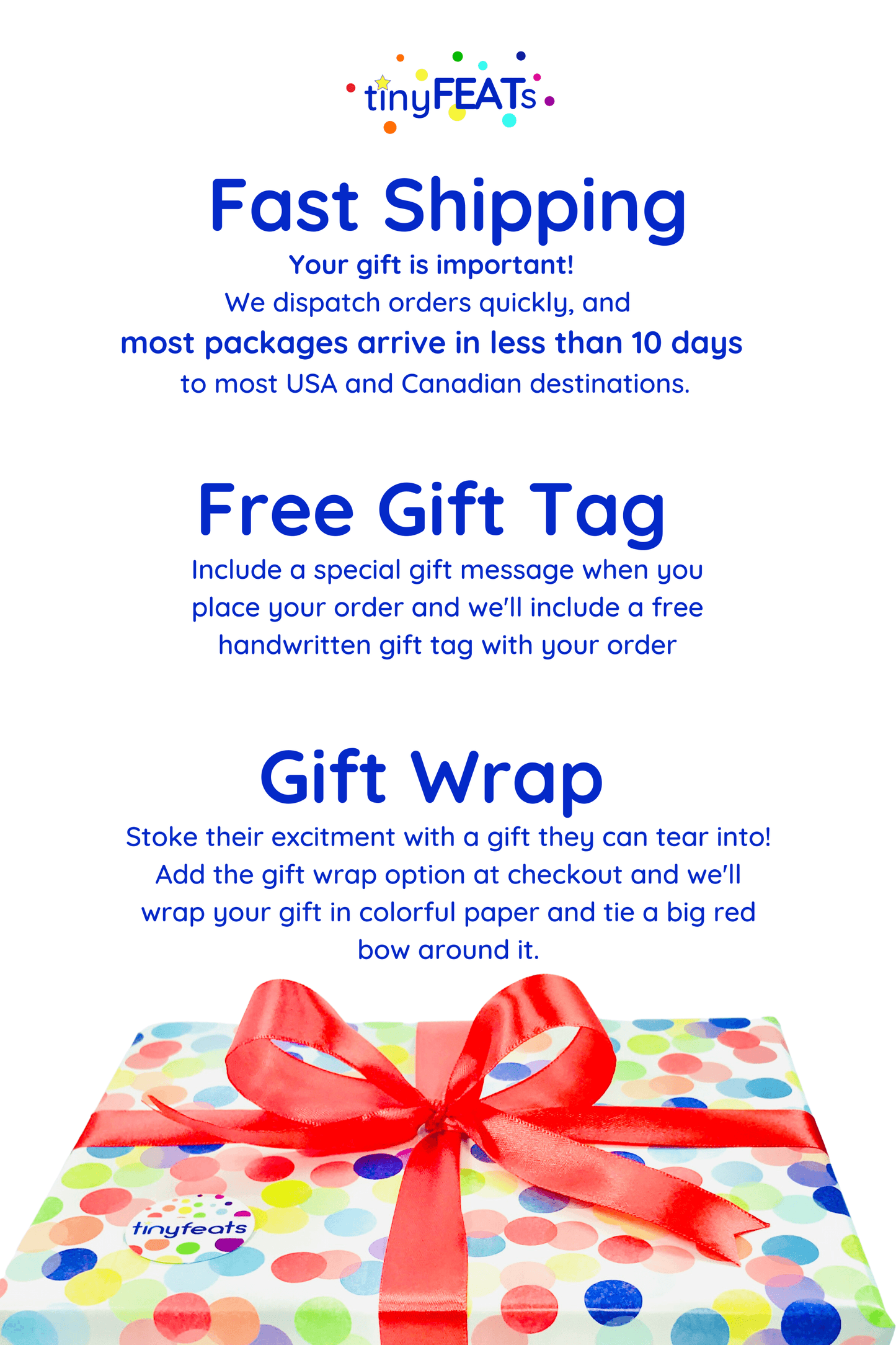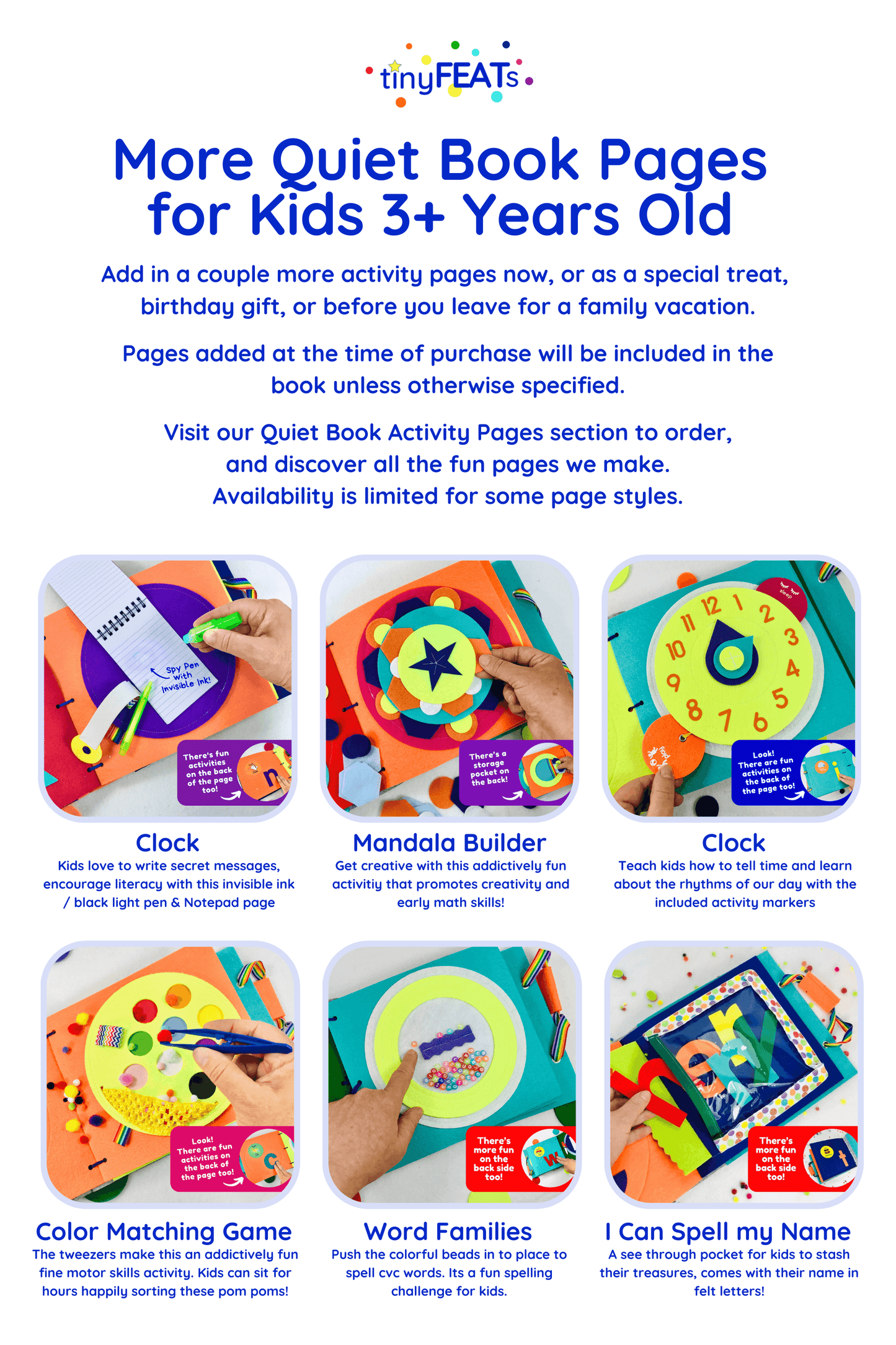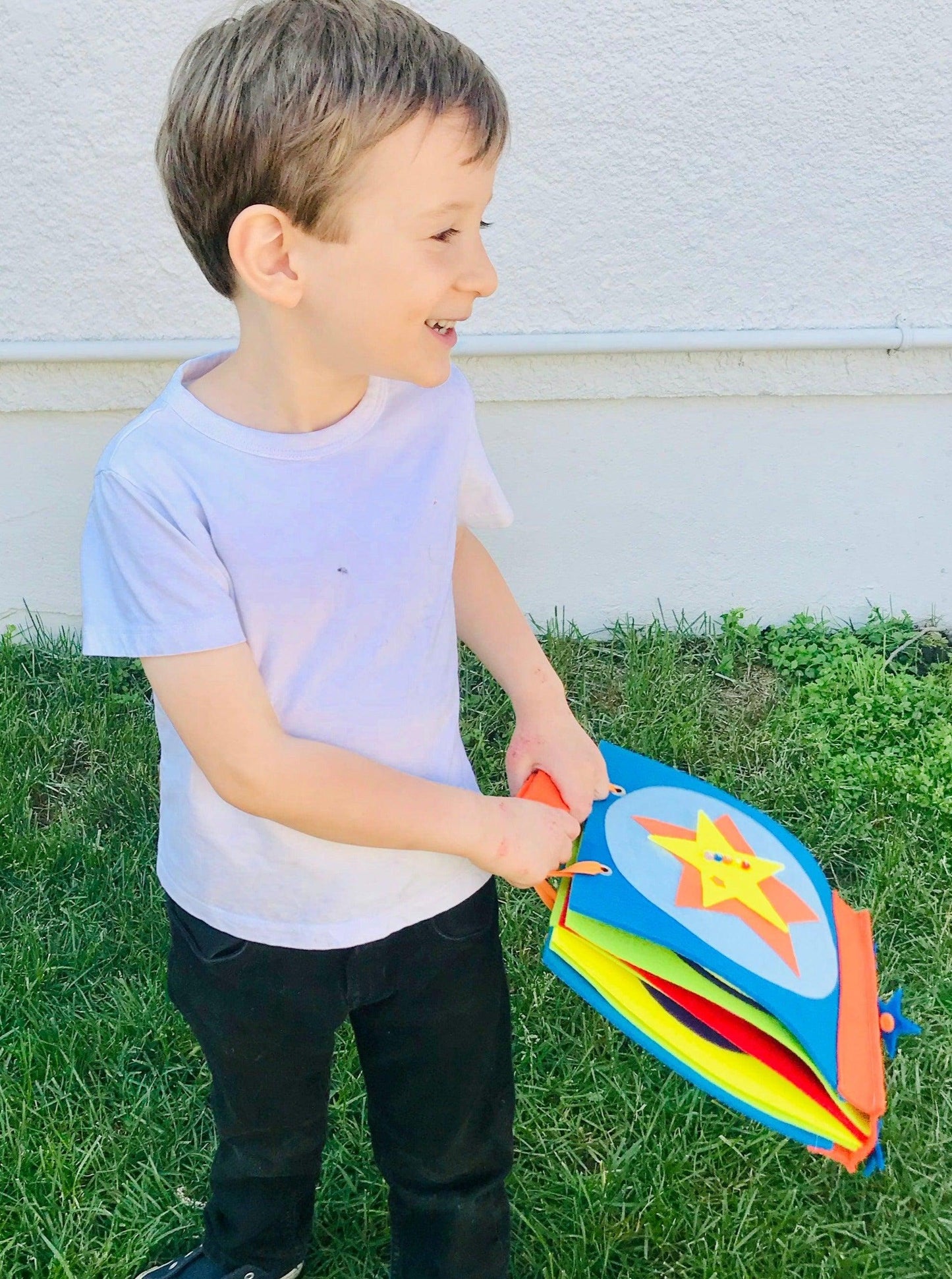 5 stars review from Sonia
5 stars review from Sonia
5 stars review from Lauren
5 stars review from Lauren
Fast Shipping, Good Quality Felt
Fast Shipping, Good Quality Felt
This book is extremely well made! I ordere...
This book is extremely well made! I ordered one for my niece and I can't wait to order another one for my own daughter 😊